Carrington Textiles' stretch military ripstop fabric recognised with PCIAW award
Spartan HT Flex Lite receives PCIAW Fabric & Fibre Innovation Award
13 November 2023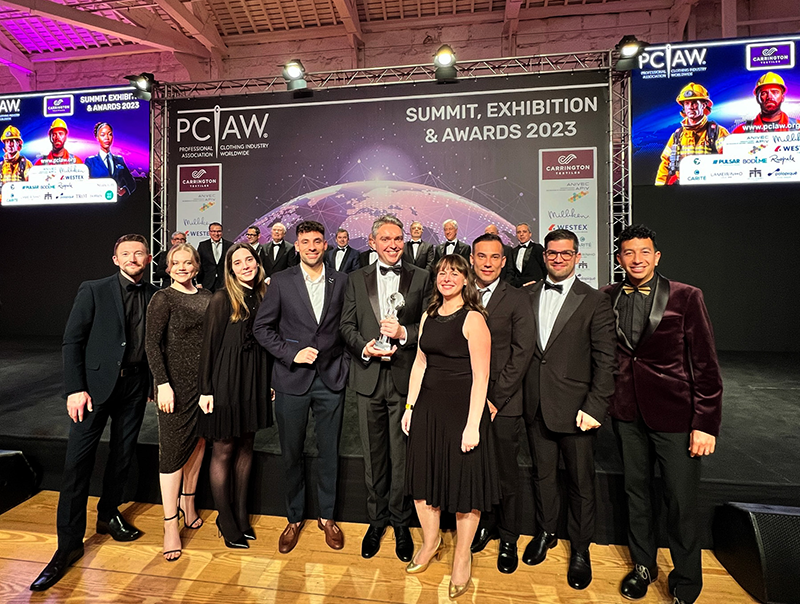 At Carrington Textiles, we are immensely proud to have received the Fabric & Fibre Innovation accolade at the Protective Clothing Industry Association Worldwide (PCIAW) Summit and Awards event in Porto last week for our latest stretch military ripstop fabric development.
Hosted by the European Textile Services Association's (ETSA) Secretary General, Elena Lai, the Fabric & Fibre Innovation Award was presented to our Spartan HT Flex Lite. "A fabric that uniquely combines high-performance durability with exceptional comfort and flexibility. Developed specifically for military applications, Spartan HT Flex Lite provides the optimal balance between robustness and wearability that defence personnel require", said Elena.
At a weight of 195gsm, Spartan HT Flex Lite is the only product from the Carrington Textiles' Spartan military ripstop fabric family that incorporates 2% LYCRA® and 37% cotton in its composition for integrated stretch and outstanding wearer comfort. It also features 61% CORDURA® military grade high tenacity nylon 6.6 for strength and durability.
PCIAW event highlights
Carrington Textiles was the Premier Sponsor of this 3-day event, which started with a tour of a series of production facilities including our Portuguese factory, MGC, where visitors learnt about the full manufacturing process and the sustainable technologies implemented at the site to produce the factory's own steam with natural resources in a carbon neutral way.
Day 2 continued with a summit focusing on industry topics of interest. In his opening speech, our Sales and Marketing Director and member of the PCIAW board, Paul Farrell, said: "It's exciting for us to be a part of this wonderful event, the first to be held outside of the UK, in the city of Porto. As a founding member of the PCIAW, and Premier Sponsor, it brings me immense pleasure to see our collective vision come to life here in Portugal, which is a place close to our manufacturing heart. This is an important production location for our group, ensuring that we are close to our customers in mainland Europe.
Over the past years, PCIAW® has evolved into a formidable platform, offering its membership and businesses the tools and guidance to thrive. We have also been privileged to leverage this by expanding our own network and making connections both nationally and internationally", Paul added.
Industry Insights
A series of insightful discussion panels focused on the industry's burning topics also took place at the event. Our Business Strategy Analyst Louise Becart participated in a panel discussing the implications of EU Sustainability, where she explained: "There is currently an industry wide lack of understanding of these regulations. Fortunately, we have transparency throughout our supply chain and work with our customers to help them find the right solutions and provide them with the correct data for them to comply."
In terms of sustainability, Louise explained that the company sees an increasing demand on sustainability credentials, including in public tenders for the defence sector. Additionally on the topic of microfibre pollution, she added: "We have been working to understand the causes of microfibre shedding. Whilst not conclusive, we found that there was a reduction in shedding by utilising different spinning methods. Data suggests that vortex spun fibres shed less than ring spun. We are now able to include CiCLO® technology to polyester during the extrusion phase, so it biodegrades at a rate comparable to natural, cellulosic fibres. This is a strategy to mitigate the problem."
Supporting future industry talent
We were also a fabric sponsor of the event's student design competition, PCA Vision, that took place on day 3 during the awards ceremony.
This year's winner, Sophie Woodlife, from Manchester Metropolitan University, designed a striking high visibility workwear garment for airport groundcrew, coming in a variety of styles including hoodies and cargo shorts. In her design, Sophie chose Carrington Textiles' waterproof fabric, Alaska Pro 2 due to its compliance with EN20471 standards, ideal for keeping air traffic control crew safe.
Finalists Megan Dyson used our Tomboy black, yellow and saffron colours for her New York Inspired corporatewear, while Connor Read incorporated a mix of our Coolcel 200 Plus, Meridian and Astacon 180S fabrics to build his nature conservationist workwear.
The PCIAW Summit and Awards event and the accolade for Spartan HT Flex Lite, has not only highlighted Carrington Textiles' pioneering role in fabric innovation and commitment to sustainable manufacturing, but also our dedication to combining technological advancement with wearer comfort and durability.
BACK TO NEWS