130th Anniversary: An insight into our global presence in trade fairs
In over two decades Carrington Textiles has attended more than 60 exhibitions across 5 continents, leading the way in research, development and sustainable practices in the textile industry
10 March 2021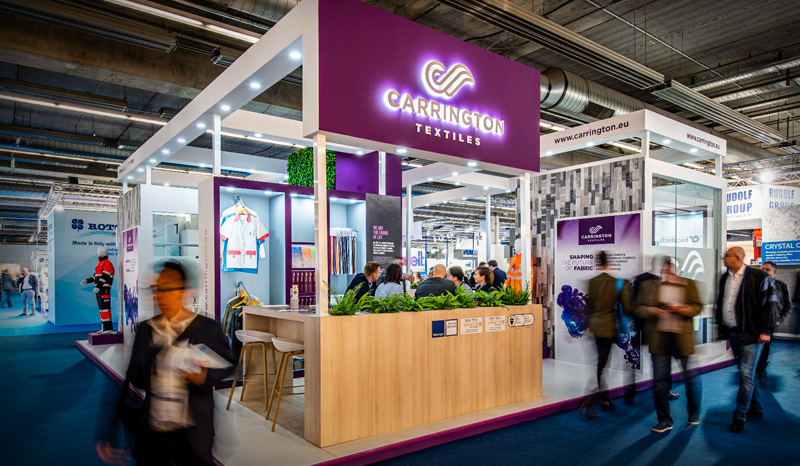 Trade fairs date back to ancient civilizations and to trade across different continents. In Europe is believed that fairs originated even before Rome was found in the great Celtic pilgrimages' era as suggested by Oxford University Press. Back then, Egypt and Greece also saw these events take place due to their beneficial location for international trade.
Modern times have seen the evolution of fairs and exhibitions which have become not only places for trade, but also excellent platforms for exchanging knowledge, networking with industry peers and make the most of the marketing opportunities they offer for businesses.
For more than 20 years Carrington Textiles has understood the importance of expo shows as a great opportunity to create new connections, strengthen relationships but most of all to learn about what's happening in the market to be able to drive our research and development efforts.
Historically we have put a great deal of work into every single exhibition to make sure the customer experience is up to standard, and also to guarantee our impact on the environment is not greater.
What's our expo history?
Since the late 90s Carrington Textiles has attended trade fairs and exhibitions on 5 different continents, in countries that include Australia, China, France, Germany, Peru, United Arab Emirates and the United States of America, to name a few.
The company's very first exhibition after joining forces with Pincroft Dyeing and Printing, was the A+A Trade Fair in Germany back in 1999. Since then we have seen the benefits of these international events and have committed to regularly participating in more and more expo events every year as we constantly reach new geographical markets.
We asked Justin Price, our Marketing Executive who's in charge of designing all our exhibition stands around the globe about his experience:
Q: How much work is involved from planning to event day?
A: Well, where to start… The first step is negotiating the space with the organisers, once we have a space confirmed the next stage is to plan and design the stand. Depending on the show, this can range from a week's work up to months for our biggest expo events.
One of our biggest exhibitions is A+A in Dusseldorf, and for it we will produce between eight and ten variations on the design before it's final, which can add up to around 150 hours of work. This includes the layout of the stand as well as graphics that will be used for it. Followed by final 3D renders which take about another week to complete.
We make sure the design is evaluated by all the relevant departments to guarantee it's not only attractive, but also functional. Every single aspect of the stand is carefully thought through, even the location of the beer pumps for our 2019 show was precisely planned!
Then comes, organising stand builders, design and producing all marketing materials needed and packing it all, ready so it gets to the event on time.
The stand build takes around 4 days, and we usually travel to the location to guarantee the design brief is met.
Once the event is live we make sure everything is in place to guarantee the best experience for our visitors.
Q: What steps do we take to lower the carbon footprint of our exhibitions?
A: Each show we attend whether it is a small or big event, throws up the same challenges, and we always try our best to minimise our impact to the environment.
To achieve this we take three main steps where possible. First we try to find a stand builder who's local or close to the event, this is not only better for our carbon footprint but also could be more cost effective in some cases. Second we try to store items from exhibitions locally for next events taking place in the same area. Last but not least, we reuse as much as we can elements from previous stand builds so we are not generating unnecessary waste.
At Carrington Textiles we are looking forward to seeing our customers, and potential partners face to face at our next exhibition. For the latest information on the fairs and events we will be attending this year please visit our Exhibitions Page.
BACK TO NEWS