Carrington Textiles to sponsor PCIAW® events this year
Proud to be the Premier Sponsor in Portugal
06 March 2023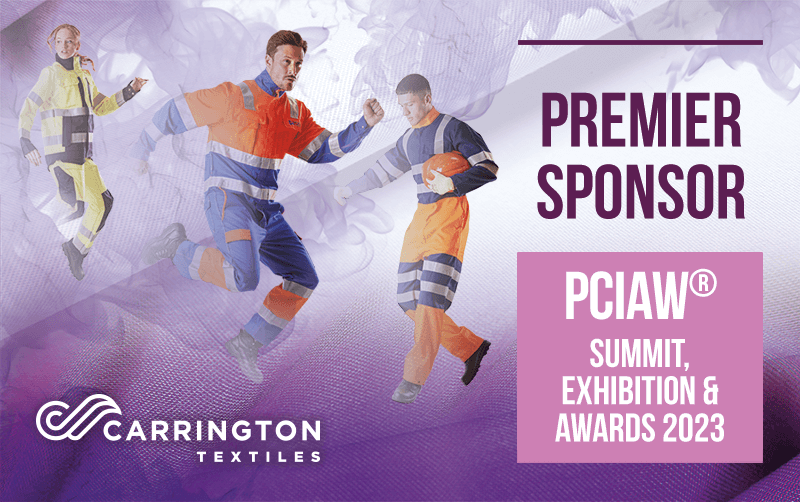 At Carrington Textiles we are proud to announce that we are the Premier Sponsor of the PCIAW® Summit, Exhibition and Awards, taking place from 7th to 9th November 2023 at the Alfandega Congress Centre, Porto, Portugal.
The annual PCIAW® Summit, Exhibition & Awards is organised by the Professional Clothing Industry Association Worldwide (PCIAW®), and it's an educational networking event dedicated to the international supply chain for the uniform, workwear and personal protective equipment (PPE) markets.
Our ability to innovate and invest in the professional clothing industry makes us an ideal Premier Sponsor for the PCIAW® Summit, Exhibition & Awards 2023, which focuses on sustainable solutions in diverse sectors including military, fire & rescue, healthcare, construction, energy, aviation, rail, banking, hospitality and more.
The annual PCIAW® Summit, Exhibition & Awards event gathers global executives from the professional clothing supply chain for unique networking opportunities, advocating for partnerships and collaboration. 2023 is the first year the PCIAW® is set to host the event in Portugal, bringing together nearshore manufacturing partners including Tunisia to support the textile industry's efforts to grow and diversify sourcing operations.
Paul Farrell, Sales & Marketing Director, Carrington Textiles commented: "As a European leader for workwear fabrics, Carrington Textiles is proud to be the Premier Sponsor of the PCIAW® Summit, Exhibition & Awards 2023, being held in Portugal for the first time. Delegates can tour Carrington Textiles' state-of-the-art dyeing and finishing facilities in Portugal during the factory tours organised by ANIVEC and PCIAW®, showcasing our company's exceptional innovation and quality controls. The PCIAW® event offers incomparable networking opportunities for the global professional clothing supply chain and provides our industry with the thought leadership we need on the path to sustainability."
Yvette Ashby, CEO, PCIAW® said: "As a global trade body for the professional clothing supply chain, I am honoured to have Carrington Textiles as the Premier Sponsor for 2023. Their commitment to innovation and sustainability on a truly international scale exemplifies the ambitions PCIAW® has for the professional clothing industry."
In addition to being the Premier Sponsor of the PCIAW® Summit & Awards 2023, Carrington Textiles is also a generous Fabric Sponsor of PCA VISION Towards 2030, the international student design competition, challenging future talent to create sustainable, functional and commercially-realistic uniform, workwear and PPE concepts.
BACK TO NEWS