Carrington Textiles Launches Innovative Website
Sustainable Fabrics and Enhanced User Experience
02 November 2023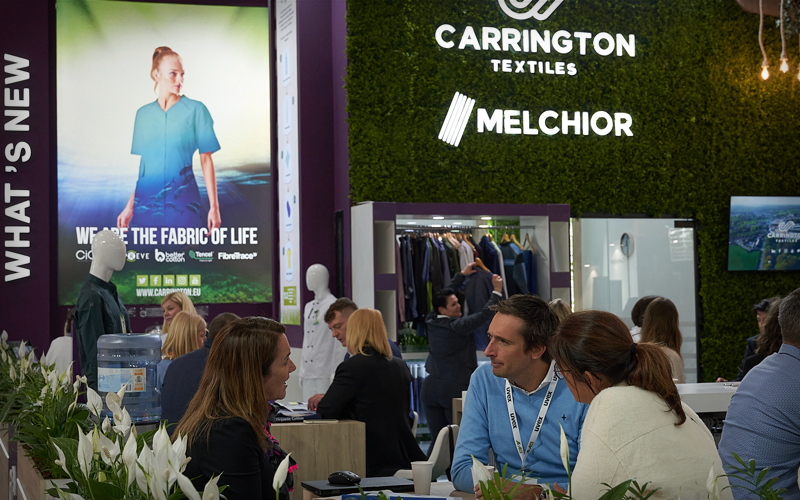 At Carrington Textiles we were thrilled to announce the launch of our innovative website at the A+A event in Düsseldorf last week.
Our participation in this event underscored our unwavering commitment to sustainability, innovation, and engaging with our valued customers. The highlight of the exhibition was the interactive presentation of sustainable fibres and the introduction of fabrics with exceptional stretch properties. These include our renowned products like Tahoe, Lugano, Meteor, Flametougher 290AS Flex and Flameflex 300AS, along with the unveiling of our latest innovation for welders, Flameshield Satin 425. Visitors had the opportunity to explore our latest eco-friendly textile offerings, including TENCEL™, REPREVE® recycled polyester, organic cotton, and Better Cotton, among other sustainable options.
In addition to our dedication to innovation and sustainability, we are proud to present our brand-new website. This interface is carefully designed to enhance the online experience for our customers, partners, and the industry as a whole. Key features of the website include:
- Enhanced Product Visibility: Our website now showcases fabric photos for each product, providing greater visibility of Carrington Textiles' exceptional fabrics.
- Improved Search Functionality: Users can easily search for fabrics by industry and colour, making it simpler to find the perfect fabric to meet their specific needs.
- Live Chat Support: We have incorporated a live chat option, enabling direct communication with Carrington Textiles' customer service team for immediate assistance during our working hours.
- Dedicated Teams Section: Visitors can explore the customer-focused areas of our business, promoting transparency and accessibility.
- Comprehensive 'About' Page: Our 'About' page offers detailed information about our company, accompanied by visual references to Carrington Textiles' key information.
- Production Insights: These pages provide a glimpse into our production processes, offering a visual tour of our factories through our commercial videos.
Our new website also offers highly popular advanced search and language options, as well as our members area for visitors to access technical data on our products, downloadable marketing materials, and more.
This commitment to sustainability, coupled with the launch of our user-friendly website, reaffirms our position as a global leader in the textile industry. We remain dedicated to innovation, providing our customers with the latest in sustainable fabrics, and ensuring a seamless online experience.
BACK TO NEWS