Carrington Textiles Showcases Sustainable Fibres and Stretch Fabrics at A+A in Hall 16 Stand E42
Carrington Textile's Eco-friendly Textiles and Stretch Fabrics on Display
03 October 2023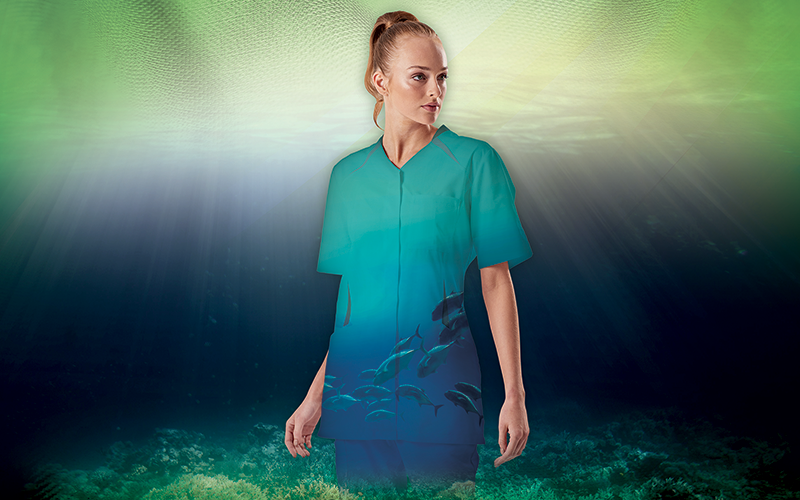 At Carrington Textiles, we are thrilled to announce our triumphant return to A+A, marking our first appearance since 2019. We will be sharing the exhibition space with our sister company, Melchior Textil, and the highlight of our comeback is a captivating display of new fabrics. A staggering 80% of these fabrics offer exceptional stretch properties, and we're offering free tickets to allow you to experience these new products firsthand.
Sustainable Fibres Take Centre Stage
We are set to dazzle visitors with an immersive showcase of sustainable fibres in our stand's "What's New" interactive zone, exemplifying our commitment to eco-friendly textiles. The Balance Range, known for its sustainability, will be the focal point of this exhibition. You will have the unique opportunity to explore a diverse array of fibres, including TENCEL™, REPREVE® recycled polyester, Better Cotton, and organic cotton, among others. Our goal is to provide you with a firsthand look at the components seamlessly integrated into our fabrics, aligning with the growing demand for sustainable products.
Additionally, after being recognised in North America for being the first workwear textile manufacturer to incorporate biodegradable polyester fibres into our products, we are also exhibiting CiCLO® fibres during the event.
Following our recent announcement about providing customers with the count of plastic bottles used to produce fabrics like our Delamere 195, we've set up a dedicated area in this zone where you can enjoy an interactive display of the concept.
Unveiling Traceability with FibreTrace® Technology
In a live demonstration, we will showcase the revolutionary FibreTrace® technology, which offers textile fibre verification, traceability, and transparency. This groundbreaking technology provides a comprehensive view of our recycled polyester supply chain, ensuring that every step is environmentally responsible.
Performance Meets Sustainability and Comfort
With an impressive 80% of our new products featuring stretch properties and at least 50% incorporating sustainable fibres, we are introducing Tahoe, Lugano, and Meteor as part of our stretch Workwear Range, while Flametougher 290AS Flex and Flameflex 300AS are the latest additions to our stretch FR developments. Additionally, Flameshield Satin 425 was created with outstanding welding protection properties, Flameban 240 has been enhanced to continue offering excellent flame retardancy, while Flametuff Satin 250AS has an improved weave for appearance and comfort.
Introducing Tahoe: High-Stretch Excellence
The new Tahoe fabric, designed for shirts and workwear applications, boasts a remarkable 20% stretch, thanks to the inclusion of 4% EOL fibres by XLANCE®. With a weight of 152gsm, Tahoe comprises 33.5% polyester, 29% recycled polyester, and 33.5% cotton, aligning with the Better Cotton initiative.
Lugano: Sustainability Meets Mobility
Lugano, our sustainable alternative to Levico, is tailored for trousers and jackets in highly mobile environments. Weighing in at 210gsm, Lugano offers 2-way stretch, made possible by the incorporation of 32% LYCRA® T400® EcoMade Elastomultiester, a fibre that provides this textile with a durable stretch that withstands the rigours of repeated industrial laundering and maintains consistency of fit, aesthetic, and performance over time. Lugano also contains 68% recycled polyester for enhanced durability, while meeting the moisture management and breathability requirements of COOLMAX® branding.
Virginie Bonnafous from The LYCRA Company adds; "A unique bi-component fibre, LYCRA® T400® EcoMade is made in part from renewable plant-based materials and recycled PET bottles. Sustainably designed, the fibre's stretch and cooling performances are also permanent and do not wash off. Being a spandex-free polyester polymer fibre, the fibre allows Lugano to be a high tenacity and abrasion-resistant fabric compatible with conventional polyester recycling processes."
Meteor: Heavy-Duty Performance
Meteor, the heaviest fabric in our new workwear range at 258gsm, offers an ideal blend of comfort, durability, and performance. Comprising 62% recycled polyester, 17% polyester, and 21% cotton, Meteor finds applications across various sectors, including railways, thanks to its certified hi-vis orange colour availability.
Stretching the Flame Retardant Range
Flametougher 290AS Flex and Flameflex 300AS represent the latest additions to our flame retardant offerings. These fabrics are engineered for comfort and safety, featuring EOL fibres for added flexibility. Flametougher 290AS Flex, with a weight of 290gsm, is a robust and easy-to-wear flame retardant fabric suitable for workers in refineries, electric vehicle manufacturing, and other high-risk industries. It boasts global accreditations, including NFPA 2112 and EN ISO 11612, and certifications for chemical splash, electric arc, and antistatic properties. In collaboration with CORDURA® to develop this product, we've incorporated 19.5% of CORDURA® nylon 6,6 to ensure certified strength, along with 78% cotton for comfort, 2% EOL for elasticity, and 0.5% negastat. Flameflex 300AS combines full certification for flame retardancy with the comfort and durability of a stretch product. Weighing in at 300gsm, this fabric incorporates 2% EOL fibres, along with a blend of 83% cotton, 14% polyester, and 1% antistatic.
Groundbreaking Innovation for Welders
We are introducing Flameshield Satin 425, a first-of-its-kind flame retardant product in our offering. With a weight of 425gsm and a composition of 100% cotton, this fabric achieves an impressive class 2 rating for welding protection. It shields welders against sparks, flames, splatter, molten metal, and radiant heat while providing the comfort of cotton and heavyweight durability, all with a distinguished satin weave.
Inherent FR Excellence: Flameban 240 Relaunch
During A+A, we take the opportunity to relaunch our Flameban 240 fabric as part of our inherent FR range. This outstanding product combines safety, strength, and durability, with a range of colours ideal for workwear applications in a variety of sectors. At a weight of 240gsm, Flameban 240 incorporates 56% modacrylic for inherent flame retardancy, 43% cotton for wearer comfort, and 1% antistatic protection. This relaunch represents the start of several inherent products we're bringing to market later in the year.
FR Protection, Strength, and Wearer Comfort
Flametuff Satin 250AS is a 250gsm fabric that incorporates high tenacity nylon into the blend, greatly increasing abrasion resistance and tear strength, whilst retaining the essential comfort properties of cotton. With a composition of 85% cotton, 14% nylon, and 1% antistatic, this fabric offers a 4/1 satin weave for a smooth and soft feel against the skin.
Expanding the Balance Range Colour Palette
We are expanding the colour range of our Balance Range of sustainable fabrics. This includes new colours for the Delamere family, Hawksbill, and Coolcel 200 Plus, among others. These additions reflect our commitment not only to sustainability but also to aesthetics and versatility.
BACK TO NEWS